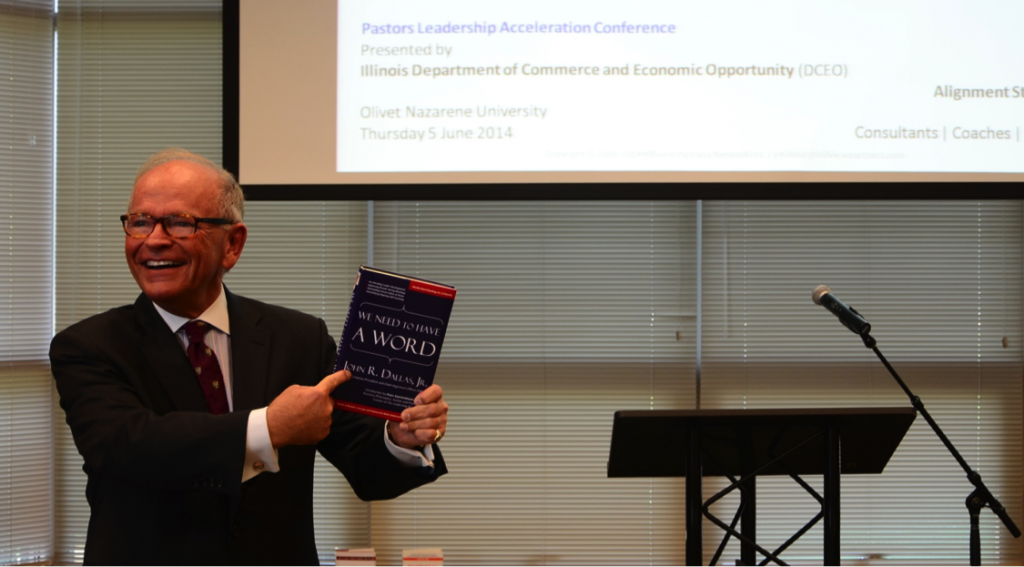 Top-ranked speaker John Dallas offers over 68 separate customizable topics for keynote presentations and other speaking formats. Internationally John brings to audiences of any size illuminating views from his decades of front-line posts as five-time company president and lifelong servant leader. Three examples of headline titles from John's 68 separate presentations: (1) Ensuring Person-Plan Alignment, (2) Sustaining Seller-Buyer Alignment and (3) Achieving Work-Home Alignment. Outlines, notes, background slides, handouts and other graphics are tailored to specific audiences.
John is a keynote presenter, panel moderator, workshop facilitator, subject matter expert panelist, and a conversational interviewer. Consider retaining John for your next important gathering of leaders, managers, supervisors, administrators, educators, sales and marketing professionals, communication experts, technology visionaries and other individuals eager to see more — and to do more with who and what they see.
John delivers customized presentations from 68 separate themes.  Examples:
Lead, Solve, Sell ― Prioritizing Thought Leadership and Offering Solutions Before Closing the Sale
Pursue Win-Win-Plus Networking ― A Master Class in Expectation, Exhortation and Exasperation of Networking
Get a Grip on the Lofty Letter and Spirit of the Sarbanes-Oxley Act (SOX) ― Getting SOX Before SOX Socks You
Aim High for Return on Leadership (ROL) ― Envisioning Daily ROL Impact on Your Sustainable ROI Goals
Engagement Lessons from Hospital Emergency Room Triage – Are You A&Ox4? Are you Alert and Oriented to Current (1) Strengths, (2) Weaknesses, (3) Opportunities and (4) Threats?
Align Organizational Nurture with Diversity in Human Nature ― HR Best Practices for True-North Strategic Team Alignment
See What Keeps Leaders in Flight and Wide Awake at Night ― A Deeper Look at Fully Responsible Frontline Leadership
Identify Predictive Pride Before a Perilous Fall ― An Early-Warning System for High Probability of Failure
Tally Your Triumphs, Trials and Tribulations ― Finding Lasting Value in Successes, Failures, and other Outcomes
Look from Just-Right Hill-Height at Your Life's Landscape ― Focus through Hillview's Wide-Angle Lens of Strategic Situational Alignment
The Psychology of Entrepreneurship ― Reframing Measurable Risk to Incalculable Uncertainty
To check availability and invite John to speak to your organization, call 312.643.8000 or email speaking@hillviewpartners.com.
We Need to Have a Word: Words of Wisdom, Courage and Patience for Work, Home and Everywhere is John's highly acclaimed 438-page hardcover volume and e-book. During certain presentations he may elaborate on the book's relevant insights. John's book is available by clicking links on this page, and also by ordering through Amazon, Barnes & Noble, Lulu and other online booksellers. For quantities of signed copies, please visit http://www.weneedtohaveaword.com.
Your audiences will value hearing about John's Polaris Principle℠ for identifying and sustaining focus on worthy destinations (e.g., vision, mission, objectives, goals, quotas etc.). He defines and describes True-North Strategic Alignment℠ for people, money, technology and other resources. With these and other breakthrough models and methods, he opens ears, eyes, minds and hearts. Need for ensuring strategic alignment of one's own views, sensibilities, knowledge, skills and actions is the focal point of each big picture he paints.
John offers a full-day or weekend workshop program, Strengths-On-Strengths℠ (S.O.S.) for Strategically Aligning Individual Themes of Strength with Organizational Seams of Strength. This curriculum incorporates The Gallup® Organization's StrengthsFinder® 2.0 and Q12® assessment tools and other relevant models for identifying, categorizing and aligning personal and organizational strengths.
Audiences appreciate his higher-ground approach to all topics — providing just-right hill-height views of people and things. John provides metacognitive guidelines for redirecting perspective drawn from a mind's dark valleys, flat plains, cloudy mountaintops or stale ivory towers.
If "what you see is what you get," then where you stand in your mind for your views really matters. Views from John's hills are clear. With authenticity, depth, humility, respect, goodwill and a warm sense of genuine humor, John Dallas points audiences toward panoramic vistas. Using his High-Impact Leader Lens℠ (HILL), through which he and his audiences re-calibrate focus on yesterday, today and tomorrow, John reveals logical, practical and actionable HILL views. The HILL Model℠ supports audiences in fully grasping importance of aligning clear thoughts with best actions.
John's begins each presentation with reference to specific methodology he developed to intensify audience engagement in meetings. Audiences remain particularly alert and highly engaged.
John Dallas delivers ROI and ROL — Return On Leadership℠ — for audiences of all types. (Click Speaking Topics above for a partial list of his presentations.)
Please contact Hillview to check John's availability for adding significant value to your next gathering of leaders, high-performing followers and aspirants to leadership posts. You will be pleased with terms and conditions for John's professional involvement in your plans.